The State of Connecticut offers the majority of health insurance benefits for UConn employees. It is important for employees to understand what benefits are available based on appointment type, make informed choices, and use the plans to meet personal goals.
The following provides information on Medical, Dental, Pharmacy, Health Enhancement Program (HEP), and COBRA benefits offered to UConn employees by the State and the University. Each heading outlines the overall availability and also provides bargaining-unit-specific details, when applicable.
Medical, Dental, and Pharmacy Plans
The Office of the State Comptroller offers several medical and dental coverage options. Detailed information about the medical, dental and pharmacy plans is available to you in the 2021-2022 Active Employee Planner and on the Care Compass, the State of Connecticut Benefit Information website.
Employee & Spousal / Dependent Medical Plans Eligibility
Unless otherwise specified in an applicable Collective Bargaining Agreement, or by specific terms of employment, an employee must work at least 50% of the hours of a full-time equivalent employee to be eligible for a medical benefit plan.
Medical, Dental, Prescription and HEP Eligibility by Audience
| | | |
| --- | --- | --- |
| Audience | Medical / Dental / Prescription | Health Enhancement Program (HEP) |
| Management / Confidential | Standard | Yes |
| UCPEA | Standard | Yes |
| AAUP | Standard | Yes |
| Law School Faculty | Standard | Yes |
| Adjunct Faculty | Standard (full cost with possible subsidy reimbursement) | No |
| Postdoctoral Research Associates | Partnership | Yes |
| NP-2 | Standard | Yes |
| NP-3 | Standard | Yes |
| NP-5 | Standard | Yes |
| Graduate Assistants / Interns / Fellows | Partnership | No |
| Special Payroll | Standard | Varies |
The following dependents are eligible for coverage under an employee's health insurance:
Employee's legally married spouse or civil union partner;
Employee's children, including stepchildren and adopted children, up to age 26 for medical insurance and age 19 for dental insurance.
Children residing with the employee for whom the employee is the legal guardian (up to age 18) unless proof of continued dependency is provided.
Disabled children may be covered beyond age 26 for medical insurance or age 19 for dental insurance, with appropriate documentation from the medical insurance carrier.
Required Documentation of an Eligible Spousal / Dependent Relationship
| | |
| --- | --- |
| Relationship | Required Documentation |
| Spouse | Marriage Certificate |
| Party to a Civil Union | Civil Union Certificate |
| Biological Child (under age 26) | Birth Certificate |
| Adopted Child (under age 26) | Adoption Decree or Birth Certificate |
| Stepchild (under age 26) | Birth Certificate and Marriage Certificate |
| Disabled Child (age 26 and above) | Applicable documentation from above, depending on relationship to child, and insurance carrier's medical verification form. |
Overview of Medical Plans
Pharmacy
The Comptroller's office oversees and manages the pharmaceutical benefits for state employees. The state's pharmacy plan is administered by CVS Caremark.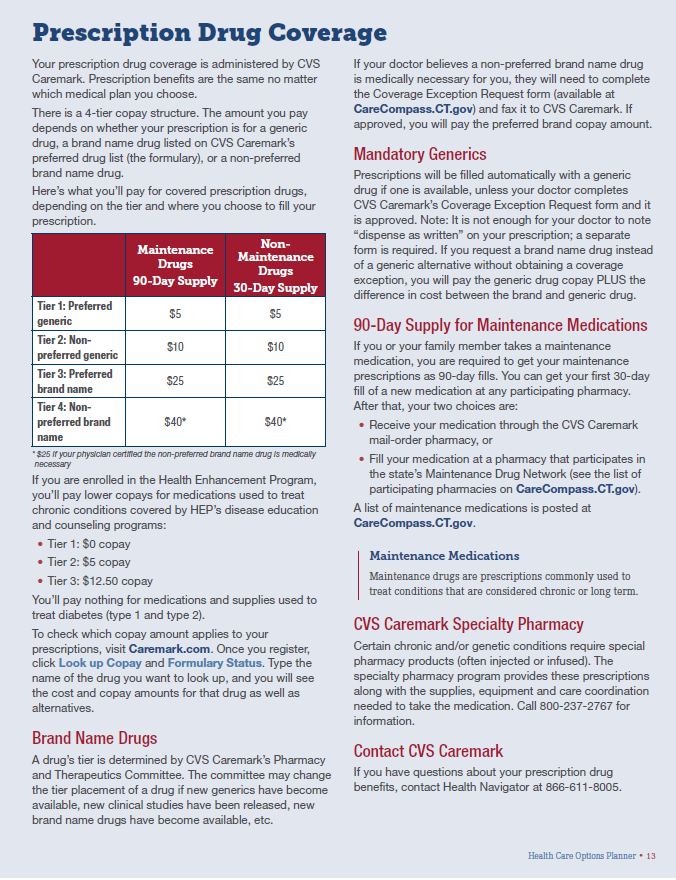 Health Enhancement Program (HEP)
The Health Enhancement Program (HEP) has several important benefits. First, it helps you and your family work with your medical providers to get and stay healthy. Second, it saves you money on your health care. Third, it will save money for the State long term by focusing our health care dollars on prevention. It's your choice whether or not to participate, but there are many advantages to doing so.
When you and all of your enrolled family members participate in HEP, you will pay lower monthly premiums and have no deductible for in-network care for the plan year. If one of you has a chronic condition (review the Employee Benefits Resources website), you may also receive a $100 payment, provided you and all enrolled family members comply with HEP requirements. You also save money on prescription drugs to treat that condition.
How to Enroll in HEP Current Employees:
For those who are not currently participating in HEP, you can enroll during open enrollment. Forms are available at: http://osc.ct.gov. Those who participate in HEP and successfully meet all of the requirements will be automatically re-enrolled in HEP again future years and will continue to pay lower premiums for their health care coverage.
Continuation of Health Insurance: COBRA
Under federal and state law, the State of Connecticut is required to offer employees or over-age dependents the opportunity to continue their current medical and dental plan options when coverage under the plan would otherwise end because of a qualifying event. An Initial COBRA Notification was made available to employees on their hire date.
To continue the coverage, members would have to pay the full cost of the coverage at group rates, which include an administrative fee.
2020-2021 COBRA Medical Rates
2020-2021 COBRA Dental Rates
2021-2022 COBRA Medical Rates
2021-2022 COBRA Dental Rates
The length of continuation is based on the qualifying event.
| | |
| --- | --- |
| Qualifying Event | Period of Coverage |
| Employment termination | Up to 30 months |
| Reduction in hours | Up to 30 months |
| Leave of absence without pay | Up to 30 months |
| Employee death | Up to 36 months |
| Divorce, legal separation | Up to 36 months |
| Enrolled child reaches age limitation | Up to 36 months |
Within 14 days following the loss of coverage, the Benefits Unit will mail a COBRA notice to the home address on file with the State. Please note that COBRA notices are system-generated and cannot be produced prior to the loss of coverage event.
Please contact the HR Service Desk or call (860) 486-3034 if you have questions or did not receive a COBRA notice.
If you have received a COBRA notice and have questions regarding your coverage, please call Anthem Blue Cross and Blue Shield COBRA Continuation Unit at 1-800-433-5436.
Adjunct Faculty
Medical/Prescription Coverage at Group Rates (unsubsidized)
Adjunct faculty hired to teach nine or more credit hours in aggregate per semester across multiple State of Connecticut university/college systems are eligible for reimbursement of the state share of health insurance premium costs subject to a number of conditions identified in the memorandum. Adjunct faculty will be billed for the monthly premiums. Interested adjunct faculty are asked to carefully review the conditions established by the Comptroller's Office. The details of the program are provided in the memorandum.The refund amount will vary based on the health options selected and dependents covered, as identified on the Health Insurance Refund Calculation.Adjunct faculty who elect group health insurance and who are contracted to teach at least one course each semester of the academic year have the option to be paid over 26 pay periods. This will provide continuous health insurance eligibility over the full year.
Your health and retirement benefit options and costs vary based on your appointment type with the University. View details.
Temporary Employees
Your health and retirement benefit options and costs vary based on your appointment type with the University. View details.
Graduate Assistants, Graduate Fellows and Graduate Students participating in University Funded Internships
Your health benefit option is through the "Connecticut Partnership Plan: View details.