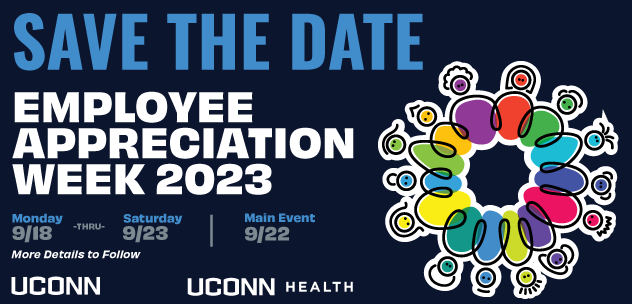 Faculty and Staff Appreciation Week 2023
We are pleased to announce this year's dates and theme for Employee Appreciation Week. Mark your calendars for the week of September 18 for employee appreciation focusing on "Well-Being and Well Connected Across UConn." Several events and activities - from in-person to virtual - will provide a space to appreciate employees and encourage appreciation for one another. We invite you to join one or many of the events and/or activities planned to "celebrate you!"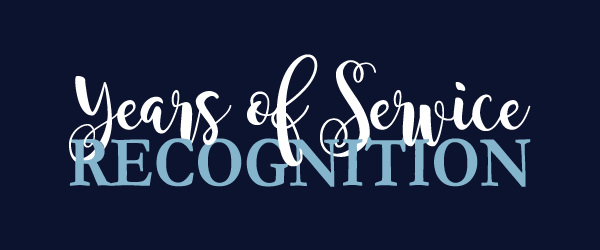 Recognizing Years of Service to the University
For the 2023 Employee Recognition Program, we are recognizing employees who reached milestone years in 2023. The University identifies eligible employees when they reach a milestone year by February 1st of the employee recognition program year.
Employees reaching 5 years of service will receive a certificate. In addition to a certificate, employees who have reached 10, 15, 20, 25, 30, 35, 40, 45, and 50+ years of service will receive an email link from our promotion's vendor, JMA, to a site with a selection of awards memorializing their achievement. Certificates and awards will be made available this Fall.
For questions, please contact worklife@uconn.edu.
5 Years
Connor Matthew Adams
Nishelli Ishti Ahmed
Mohamad Alkadry
Liborio Almanza
Emma B. Amador
Kiyomi Katherine Andrada
Linda Gizella Anievas
Kaylei Arcangel
Valarie Ann Artigas
Amanda Kathryn Arundel
Raman Bahal
Alexander Balatsky
Jeremy L. Balsbaugh
Ekaterina S. Barachkova
Jonathan Bartolotta
Paola Gabriela Batta Lona
Heather D. Battaly
Cara Battersby
Judy Ann Benson
Nicholas P Bertora
Michael Biro
Necmi Biyikli
Ana Clara Clara Blesso
Nefeli Maria Bompoti
Ricardo Teris Brown
Holly B. Brunette
Marta E. Calderon
Nicola Carpentieri
Lisa Caruso
Daryl R. Cashin
Anthony Castellano
Jennifer L. Chaput
Jeffrey P. Chen
Tianxu Chen
Wai-Kei Cheung
Benjamin Thomas Christensen
Deborah Chyun
Christopher P. Cipriani
Rachael Ann Collard
Lisa Conant
Oren B. Corridon
Andre F. Corsini
Diane F. Covello
Kaitlyn Cullen
Elaine Cusson
Aryn Cordner Davidson
Helena Adairre Debald
Christopher Delello
Zeely A. Denmat
Darcie Dennigan
Jessica Von Villas Dickerson
Joseph Divito
Mary Kathleen Donegan
Lulu Dong
Amanda Douberley
Jennifer E. Durelli
Carrie L. Eaton
Jennifer Claire Eigo
Heather L. Elliott-Famularo
Amy Erhart
Jodi M. Eskin
Shona K. Evans
Ran Feng
Melissa L. Frain
Aurel-Mihai Fulger
Jessica Fuller
Elizabeth Ann Gallo
Ellene Janeth Garza Colunga
Mary E. Gelinas
Brooke Foti Gemmell
Stephanie Ann Gernant
Eric C. Glinsky
Daniel Lawrence Goldberg
Emily A. Gray
Katlyn H. Griffin
Jason P. Grivois
Jessica Groves
Tracy J. Gruber
Yuwen Gu
Maria E Gyure
Claire L. Hall
Katherine Patricia Walsh Hall
Roeland Hancock
Charlene K Haukom
Scott Hauver
Kelly Herd
Heidi Lynn Herz
Amir Herzberg
Arielle Jean Hill-Moses
Thomas Michael Hinchey
Jennifer L. Holowaty
Laura House
Thomas S. Jacobsen
Jasna Jankovic
Valerie Elaine Jenkelunas
Luchang Jin
Joseph Johnson
Juliet Kapsis
Anne Kim
Min Seong Kim
Sarah Ann Knutie
Walter Oliver Krawec
Mathew Krest
Susan H. Landolina
Anne Langley
Leslie Lapointe
Crystal Deann Lawton
Thomas Jacob Lee
Emily Beth Leibin Ko
Sean Li
Merz Lim
Donna H Liska
James Lombard
Marcia Beth Lombardo
Daniel Long
Jose Luis Lopez
Christine P. Lowe
Joseph M. Luciani
Robert N. Lupton
Christopher James Maiello
Stacey A. Mancarella
Alexandra Manna
Charles B. Maric
Jessica Nicole Marsalisi
William Martinez
Catherine M Matassa
Georgios Matheou
Glen Mathieu
Joseph McAlhany
David McArdle
Daniel McCarron
Margaret McDonnell
Kimberly A. McNamara
Jennifer S. McNeal
Zitmarie Mestre-Soto
Fei Miao
William Edward Miller
Neha Mishra
Devante Lewis Mitchell
Bryon Nathaniel Moore
Francis Charles Murphy
John M. Murphy
Brian Michael Murray
Dennis Mogire Ndaya
Charlotte Halling Nelson
Carrie B. Norris
Abiodun Taofeek Obajinmi
Nathanael J. Okpych
Nathan Christopher Oldham
Belter Ernesto Ordaz Mendoza
Linnaea Emily Ostroff
Emily Pagano
Sherry Pagoto
Paul Stuart Parker
Matthew Parkinson
Nicole R. Pauloski
Malaquias Pena Mendez
Juan G. Perez-Rios
Evan James Perkoski
Gregory Perrotti
Suzanne E. Peters
Jennifer A. Platts
Inga Poetzl
Samuel Post
Niva C. Ranjeet
Thomas Joseph Reichardt
Taylor Ann Renaud
Juliana Restrepo Marin
Rindaanne Hope Riccio
Jomaira L. Rincon
Caitlin Elizabeth Robertson
Fernando Rodriguez Jr.
Deepak Sainju
Debapriya Sarkar
Birgit E. Sawstrom van Schalkwyk
Robert Schadtle
Eric Seff Schneider
William Van Arsdale Shannon III
Reza Sheikhi
Jason Sheldon
Kimberly B. Shellenberger
Noga Shemer
Sarah Redlich Shore
Roman Shrestha
Samantha A Siedlecki
Margaret Lloyd Sieger
Sandra Leigh Sirota
Melanie Skolnick
Stephen T Slota
Tanya Smith
Marianne Snyder
Kristen L. Soprano
Heather Rose Souer
Rebecca Stankiewicz
Elizabeth Marie Staples-Perry
Ashlee Murray Stone
Iris L. Strong
Sumarga H Suanda
Christine Sullivan
Kimberly Morgan Syme
Clay Tabor
Marisa Christina Tatiwong
Sarah Taylor
Amy Thompson
Lynne Tirrell
Carlos Trallero
Sarah Melissa Trallero
Lynsi J. Vaitukaitis
Kenneth R Vega
Ronald William Vernier III
Dean R. Vertefeuille
Susan Virkler
Scott B. Wallace
Renee Alyssa Walsh
HaiYing Wang
Molly Waring
Mary B. Whalen
Rachel Adrienne Wice
Jeannette Y. Wick
Amanda Wilde
Mehgan B. Williams
Briana Nicole Williams
Jennifer M. Williams
Timothy R. Wise
Xiulan Wu
Ling Xiao
Wanli Xu
Sheyda Younessi
Emily Zangari
Jin Zhu
Bin Zou
Catherine Zuppani
Amy L. Zurowski
20 Years
V. Agocha
Peter C. Armentano
Christine Aschenbrenner
Amvrossios C. Bagtzoglou
Kara M. Bonsack
Diane L. Bordeleau
Gregory Bouquot
Theodore J. Brewton
Fabiana A. Cardetti
Tutita M. Casa
Catherine Casey
John A. Chandy
Helene E. Chapman
David M. Clokey
Aaron Collins
Joanne Conover
Michael M. Copenhaver
Gordon A. Daigle
Khanh V. Dang
Thomas E. Daponte
Beverly Dauphinais
Luis A. Dejesus
Nora DeJesus
Jorge O. Deleon Cardozo
Kelly E. Dennis
James A. Dixon
Rebecca R. Dunstan
Renee E. Ferriere
William K. Field
Roslyn H. Fitch
Jessica J. Gerum
Swapna S. Gokhale
David J. Goldhamer
Maria Gordina
Joerg Graf
Wesley C. Gregonis
Robbin L. Haboian
Steven M. Jagielo
Kyungseon Joo
David L. Judd
Seth C. Kalichman
Jeongho Kim
Patricia Anne Kula
Jeffrey W. Ladewig
Peter B. Leclair
Joan G. Levine
Claudia M. Lopes
Jessica Ray Lowrey-Manning
Mona L. Lucas
Eric Lundquist
Jeremiah Edward Macht
Nora Yossif Madjar
Janice Mathews
Dorothy E. McCoach
Peter Menard
Ruben Mercado
Laurent D. Michel
Michael E. Morrell
Natalie Munro
Mansour Ndiaye
Carrie A. Noheimer
Angel R. Ocasio
Vadim Olshevsky
William E. Page
John Parmelee
Gisella Petrella-Stevens
Sanguthevar Rajasekaran
Theodore Rasmussen
John S. Rhoads
Nikole M. Ruddy
Tiffany Ann Simpson
George M. Sprague
Ronald J. Squibbs
Ranjan Srivastava
Jan Stallaert
Snieguole Stapcinskaite
Christopher S. Stasaitis
Jiong Tang
Margaret Tartsinis
Alexander Teplyaev
Shannon Weaver
Vickie Weidig
Linda West
Melissa A. Wielandt
Sarah E. Winter
Michael Young
35 Years
Correen D. Baker
Denis A. Coble
Vernon F. Cormier
Robin A. Coulter
Eric Donkor
Scott J. Gallo
Kimberly A. Gedney
Glenn F. Haley
Kimberly M. Haley
C. P. Hallwood
Mark A. Hamilton
Hector Hernandez
Patrick C. Hogan
Mary M. Howard-Strobel
David L. Koehler
Elena T. Levy
Diane C. Lillo-Martin
Thomas J. Miceli
Richard Michaud
Sheryl A. Nasansky
James O'Donnell
Donna Parenti
William E. Pecor
Narasimhan Srinivasan
Lakshman S. Thakur
Russell T. Theroux
10 Years
Alana M. Adams
John S. Allen
Alfredo M. Angeles-Boza
Blaine A. Aponte
Nicole Ariyavatkul
Donald William Babcock
Kelly Bannister
Teresa L. Barber-Tournaud
Kimberly A. Beardsley
Saraswathi Bellur-Thandaveshwara
Irene A. Benza
Gerlinde Berger-Walliser
Laurissa A. Berk
Melissa Berkey
Kathy Birnie
Mark Biron
Bruce E. Blanchard
Christopher Neal Blesso
Denise B. Bourassa
Thomas J. Breen
Colleen K. Bridgeman
Eric J. Brunner
Yesenia Cajigas
Melissa N. Casagrande
Jaclyn Michelle Chancey
Jaime L. Chase
Luong T. Chiem
Johnnie L. Christensen
David R. Christianson
Paul Cocuzzo
Mathilde Cohen
Tamara L. Cohen
Kimberly Martinez Colon
Cynthia P. Costanzo
Steven G. Criss II
Kimberly S. Cuevas
Lindsay Cummings
David F. Daggett
Jessica Faye N. De Perio Wittman
Joel D. DeMarco
Amanda Denes
Danielle Anne DeRosa
Christin Alise Donnelly
Amy M. Donofrio
Elena E. Dormidontova
Kristen Rose Dostaler
Elaine Dumas
Erika N. Durning
Shane Christopher Eagleson
Susan L. Einbinder
Raymond Harold Eldridge Jr.
John A. Elliott
Sharareh Emadi
Ellyssa L. Eror
Melissa Diane Ferrigno
Pamela L. Fischl
Jennifer L. Freeman
Jeffrey Stephen Gagnon
Adrian Garcia-Sierra
Bruce Gelston
Frederick Gibbons
David Giblin
Clarissa Q. Girasoli
Allison Goldsnider
Richard Gonzales
Celine Goorahoo
Maria Groza
Catherine Farrell Guarino
Jason N. Hancock
Nicholas S. Hany
Rachel L. Hartley
Robert S. Healy
Melanie C Hepburn
Daniel Hershenzon
Christopher Anthony Hewitt
David C. Hille
Michael Robert Howser
Michael Hren
Lan-Hsuan Huang
Andrea Hudy
Alessandra L. Introvigne
William M. Johnson
Alexander Karr
Johanna Magdalena Kaufmann
Stefan Kaufmann
Patrick Tysen Kendig
Marlene H. Kennedy
Omer Khan
Deborah J. King
Bongback Kwon
Hassanaly Ladha
Janet A. Laflamme
Daniel L. Lapp
Michael James Lenn
Allison Lombardi
Richard J. Luddy
Julie Marie Lynch
Eric K. Magurk
Jeanne Mangos
Eric R. May
Patrick M McIntosh
Jacob T. Miceli
Matthew Mroz
Ovidiu Munteanu
Syieda A. Murphy
Serge M. Nakhmanson
Kanda Naknoi
Sanjeev K. Nayak
Jose Rafael Nebres
Lyndsey Neville
Kelley H. Newlin
David Noble
Michael E. O'Dea
James Ouellette
Stephen Park
Heather Parker
Alison N. Paul
Heather Lee Peracchio
William R. Peterson
John Petrizzo
Michael Petro
Megan S. Petsa
Brian T. Pivonka
Juliany Polar
Glenn P. Quinlan
Anna M. Radziwillowicz
Anne M. Rajotte
Michel Rakotomavo
Nairan Ramirez-Esparza
Heriberto Ramos
Rebecca M. Randazzo
Kayla Judith Rettburg
Stephanie Rimoczy
Heriberto L Rivera
Carl M. Rivers
Janet Rochester
Suzanne M. Rogoz
Tracy B. Rossi
Amy Safran
Elizabeth D. Schifano
Evelyn M. Sehl
Brian Daniel Shaban
Jeffrey Shoulson
Julia A. Simon-Kerr
Victoria Ford Smith
Fiona Somerset
Steven M.. Spencer
James D. Spillane
Graham P. Stinnett
Danielle Lynn Sullivan
Linda J. Szabó
Jennifer L. Testin
Kristin Van Ness Scrivano
Angelina Reyes Vaughn
Jill A. Vessella
Rebecca L. Walker
Xiaojing Wang
Daniel Weiner
Denise M Whitford
Andrew Wiemer
Hayley Hesse Willis
Lauren E. Wilson
Damin Wu
Yanhua Sunny Yang
Karen L. Zajac
Jing Zhao
Xiaobo Zhong
25 Years
Jeffrey A. Albright
Bert H. Augmon III
Cheryl L. Beck
Anne Bladen
Keith Blanchard
Paul R. Bleimeyer
Donald Bolduc
Preston A. Britner
Karen K. Buffkin
Jonathan C. Cooke
Cornelia H. Dayton
Amy de Flumere
Penny L. Dobbins
Andrew T. Fournier
Daniel J. Gage
Scott A. Gilchrist
Lan Guglietta
Pablo W.Gutierrez
John N. Gwinnell
Patricia M. Harkins
Lauren M. Jorgensen
Robert B. Kent
John Levesque
Laura J. Mirante
Olivier Morand
Lisa M. Muller
Jennifer S. Myette
Michael Oatley
Jeffrey O. Ogbar
Lisa G. Orcutt
Isaac M. Ortega
Betsy P. Pittman
Felicia Pratto
Deborah A. Redshaw
Diana I. Rios
Nigel Roberts
Lisa D. Rodino
Jennifer L. Sanford
Ronald C. Schurin
Boris Sinkovic
Roger M. Travis Jr.
Ellen R. Tripp
Jonathan Evan Ward
Janet S. Watson
Steven R. Werth
Michael David White
Kimberly E. Wilk
Michael W. Willenborg
40 Years
Fred V. Carstensen
Bruce A. Hedman
Venu Menon
James M. O'Neil
15 Years
Lori Abell
Cinnamon K Adams
Kari L. Adamsons
Michael J. Alger
Carol Atkinson-Palombo
Jane Benoit-Bean
Giuseppe Bongiovanni
Gary A. Bourgoin
Ryan P. Brown
Tracy A. Brunette
Tracy J. Burke
Sean T. Butler
Kaishuang Cao
Maryclaire C Capetta
Christian Cemino
Bodhisattwa Chaudhuri
Maria Chrysochoou
Miguel A. Colon
Tammie Corioso
Marc Cournoyer
Jason C. Courtmanche
Carla Curran
Osker Dahabsu
Kristy L. Dahlstrom
Catie Lynn Dann
Maha Darawsha
Mark T. Davis
Manisha Desai
Ana Maria Diaz-Marcos
Mark Drobney
Alexis Dudden
Amy P Dunham
James Dunn
Stephen B. Dyson
Lisa Beth Ephraim
Joseph M. Ferris
Dana Maria Foster
Tammy A. Foular
Janelle Rae Francisco
Wayne Franklin
Maria Gallego
Cheryl D. Galli
Aida Ghiaei
Cynthia Gilmore-Mordus
Phoebe C Godfrey
Amy Gorin
Serkan Gorkemli
Kimberly A Gorman
Timothy Grady
Hillary Greene
Tina Lovina Louise Griffith
Cindy Hall
Elaina Marie Hancock
Lori-Anne J Hansen
Kathy L. Harrison
Zoraida Hernandez
Susan Z. Herrick
Susan Hoge
Elizabeth Howard
Deborah Ives
Aileen K. Keays
Valerie Kiefer
Robert T. Kiernan
Kathryn G. Korner
Jennifer S. Lamontagne
Shawn Patrick Lappen
Louise S. Larson
Jeanine M. Lavigne
Heather Leeman
Lindsey Lemoine
Khara Leon
Milton J. Levin
Dmitriy Leykekhman
Ellen Litman
Nicholas Lownes
Jessica D. Lubell-Brand
Maritza Lugo-Stalker
Martha Marin
Martha J. Marroni
Ellen D. Mayo
Cynthia Miranda-Donnelly
Sheila Morgansmith
Robert V. Morrell
Daniel K. Mulkey
Lauren C. Munyard
Roger Nadeau
Kevin M. Noonan Jr.
Spencer V. Nyholm
Ashley Lynn-Trotter O'Connell
Robertson Thane Papke
Daniela Parciasepe
David Pezzino
Noemi Maldonado Picardi
Robert Polkowski
Raul T. Potenciano
Holly Rau
Christine G. Reardon
Gregory Reilly
Luis R. Rivera
Luke Rogers
George A. Rossetti Jr.
Daniel G. Russell
Michael F. Ryan
Lisa M. H. Sanetti
Valerie Saugera
Marie DeSanto Schweitzer
Christine Scott-Dougan
Lionel S. Shapiro
Juliette M. Shellman
Matthew Singer
John M. Smith
Diana M. Sobieraj
Heun Soh
Daniel P. Sokol
David Souder
Joseph J. Speich
Paul Mathew Spirito
Joshua Strecker
Owen S. Svalestad
Stacey Valliere
Jamie M. Vaudrey
Charles R. Venator
Elizabeth Vitullo
Maksim A. Volgushev
Leah Marie Ward
Kathryn Wheeler
Nancy M. White
Shawn P. White
Yufeng Wu
Jun Yan
Xiaodong Yan
Sherry L. Zane
Karen Zera
30 Years
Nancy C. Balcom
Valerie B. Duffy
Gerald V. Dunne
Willajeanne F. McLean
Maria I. Mejias
David S. Morrow
Eleni T. Rodis
Tracey A. Roy
Janene A. Vandi
Michael Vertefeuille
Frequently Asked Questions
How do I know if I missed the email for my years of service award?
Eligible employees were emailed on Thursday April 20th from our vendor, JMA at UConnAwards@jmalogos.com of their ability to select an award. The deadline to select an award is Wednesday May 10th; should you not select an award, a default award will be selected on your behalf.
How are years of service calculated?
Eligibility for Employee Recognition Service Awards is determined by total state service. Milestones reached are awarded each year by who has achieved the years of service milestone by February 1st. Awards are selected in the Spring/Summer and distributed in the Fall.
Military Service is not included in total State service.
I think my Years of Service are incorrect; who can I contact about this?
Please email worklife@uconn.edu for initial contact. If we are unable to answer your question, we will notify you of your need to contact the Length of Service Specialist.
How can I change the address to where my award is being mailed?
All awards are being shipped to the Office of Human Resources on the Storrs (Depot) Campus. Certificates and awards will be made available this Fall for pick up from Human Resources on the Depot Campus by each department administer who will distribute them as it's been done in past years.
An Award Celebrating Employee Contributions and Civility
The University of Connecticut established the UConn Spirit Awards to honor staff and faculty at our Storrs and regional campuses for stellar contributions and dedication to civility in the workplace. The goals of the UConn Spirit Awards are to:
Build community within the University and University departments;
Provide an opportunity for employees to be recognized for their contributions to the University, which are not specifically academic but related to teamwork and civility; and
Create an event that acknowledges the efforts of all employees, especially staff members.