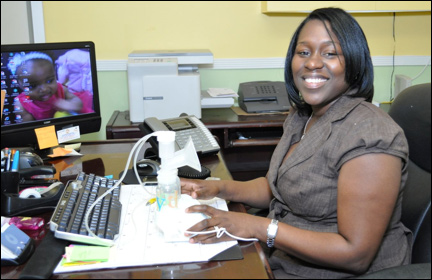 Charash, Elizabeth. "UConn increases access to lactation areas." The Daily Campus, 18 Jan. 2017.
The University of Connecticut has established "lactation areas" and "lactation breaks" for employees and students who are currently breastfeeding.
"The policy was enacted to provide information to breastfeeding employees and students regarding their rights to a reasonable break time, as well as a space to breastfeed or express breast milk at UConn," UConn spokeswoman Stephanie Reitz said in an email.
This policy mandates that employees, students and faculty at the Storrs, UConn Health and regional campuses must have access to a "clean, private (the ability to be shielded from view and free from intrusion), comfortable space with electrical outlet, chair, table for breast pump and nearby access to clean running water," according to UConn.
This is consistent with Connecticut state law that prohibits the "deprivation of the right to breast-feed one's child," which provides reasonable time to pump in accordance with such provision, according to UConn.
Lactation Resources
| | |
| --- | --- |
| | Breastfeeding, the key to good health of mothers and babies, also has benefits for families, employers, and the community in general. For these reasons, the Connecticut Department of Public Health, the Connecticut WIC Program and the American Academy of Pediatrics recommend feeding your baby only breast milk until age 6 months, and breast milk plus solid food from 6-12 months and beyond. |
| | CDC's Division of Nutrition, Physical Activity, and Obesity (DNPAO) is committed to increasing breastfeeding rates throughout the United States and to promoting and supporting optimal breastfeeding practices toward the ultimate goal of improving the public's health. |
| | Our Mission is to help mothers worldwide to breastfeed through mother-to-mother support, encouragement, information, and education, and to promote a better understanding of breastfeeding as an important element in the healthy development of the baby and mother. |
| | Expressing Breastmilk on the Job. Readjusting to your previous work routine can be challenging enough without factoring in a breastfeeding schedule. Fortunately, you have taken the time to prepare your baby, your caregiver, your co-workers, and yourself for this new situation, so you are making the transition in the best possible way. |
| | UConn and UConn Health is committed to promoting a positive work life integration for its employees. As part of these efforts, we are pleased to provide lactation resources to ensure that the needs of breastfeeding women are met. Lactation rooms are available for employees, students and visitors who wish to express milk. |
UConn Lactation Policy
Reason for the Policy
The purpose of this policy is to provide employees and students who are breastfeeding a private place and reasonable break time to express breast milk for their nursing child. This policy is in accordance with relevant laws and regulations regarding breastfeeding in the workplace.
The complete UConn Policy Statement
Under the Affordable Care Act (ACA), employers are required to provide a reasonable amount of break time and private space to express milk as frequently as needed. In addition, the Affordable Care Act requires health insurance to provide coverage for breast pumps. Please contact your health insurance provider for more specific information about what is covered.
Lactation Rooms
The lactation areas on UConn premises are available for use by employees, students, volunteers and visitors. Locations
Frequently Asked Questions
(coming soon)
State and Federal Legislation
Legal Protection for Breastfeeding Mothers
U.S. Department of Labor Break Time for Nursing Mothers Information