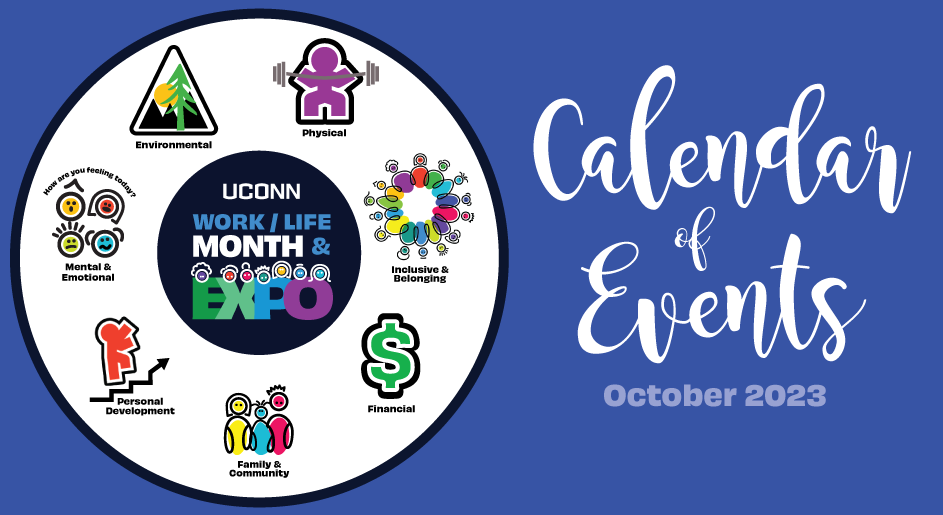 UConn's mission highlights our aspiration to promote the health and well-being of all citizens of the state and beyond, and our workforce is the essential component towards achieving this mission. Every October, UConn celebrates Work/Life Month, which includes events to support our workforce and promote a healthy relationship with our work and personal lives.
At the October Work-Life Expo, we gather university and state-sponsored partners who provide benefits, wellness services, and other information and resources for employees. The Expo is an opportunity to reconnect with familiar colleagues, learn something new about work/life, and promote the well-being of you, your family, and our community.
Download and Print Calendar of Events
Please Note: Most sessions will be recorded for future viewing.
Wednesday, October 4, 2023
Pilates - 12:00 pm - 1:00 pm
Pilates is a bodyweight-based class focused on strengthening and aligning your entire body while also promoting flexibility and posture. Classes integrate progressions through each muscle group while keeping in touch with breathing and core stability. Come by for a soothing yet sweaty workout geared at increasing muscular strength and endurance, coordination, flexibility, and stamina.
Location:
UConn Recreation
2060 Hillside Road
Unit 1273
Storrs, CT 06269
Thursday, October 5, 2023
Pet Therapy for Employees - 12:00pm - 1:00pm
Faculty & Staff: In honor of Work/Life Month, take a moment out of your Thursday afternoon to reap the benefits of spending time with Wrigley, a bear sized Therapy Dog from Tails of Joy.
Join Wrigley, a Newfoundland for some lunch time snuggles!
Location:
Homer Babbidge Library, Staff Lounge on the plaza level enter thru the West entrance (Betweenk the Grad School and ITE).
Tuesday, October 10, 2023
Money on My Mind: Dealing with Anxiety - 12:00pm - 1:00pm
Continued exposure to financial uncertainty in a constantly changing world has had a direct impact on employee mental health. A sense of instability, triggered by living amid a shifting landscape and the rising cost of living, has seen a surge in levels of anxiety. This session will help participants recognize and understand financial anxiety and distinguish it from worry and stress. It will teach attendees how to manage anxious thoughts and feelings and feel more stable in their own situation.
Join this session to:
Understand the difference between anxiety, worry, and stress
Learn how to practically tackle overwhelming thoughts
Determine ways to manage personal physiological states
Discover ways to increase financial stability
Thursday, October 12, 2023 – Work/Life Expo
Work/Life EXPO
Time: 10:00am – 2:00pm
Location: Student Union Ballroom
UConn Flu Vaccination Clinic:
Thursday, October 12, 2023
9:00am-3:00pm
Student Union - Room 304
Fill out the consent form in advance (preferred) or at the clinic.
Bring your Anthem Medical Card.

Speech & Hearing Clinic:
Thursday, October 12, 2023
10:00am-2:00pm
TBD
Begin to Spin - 4:00pm - 4:45pm
SPINNING®, or indoor cycling, is a fun yet intense cardio-based class that takes place on specialized Spinner bikes. Riders are challenged both mentally and physically as they work through a variety of class profiles including hills, flats, sprints, jumps, intervals, and more alongside fantastic playlists.
The first 10 minutes of class will be dedicated to setting up your bike comfortably and the remainder of the class will be the workout.
This class is 45 minutes in length and is suited for all fitness levels.
Location:
UConn Recreation
Monday, October 16, 2023
Saving Money: The Best Way to Stay Warm - 12:15pm - 12:45pm
Join Human Resources & the Citizen's Oil Co-Op to find out ways that you can save money this winter on oil, propane, and electricity. Learn how to make sure you are getting the best arrangement at the most affordable price. Discover how to navigate the industry so you save, while ensuring that you don't pay for services that you don't need.
Microsoft Teams Link
Or call in (audio only): 1-475-282-1761, Phone Conference ID: 842 381 941#